Bite Back is the very first online positive psychology program designed to improve the overall wellbeing and resilience of young Australians aged 13 - 16 years old.
What's Bite Back?
Bite Back is Black Dog Institute's FREE, self-guided online wellbeing and resilience program for young people aged 13 - 16 years old. Evidence shows that using Bite Back can decrease symptoms of depression and anxiety and increase wellbeing. Bite Back Version 2.0 was released in April 2018 and received over 10,000 registrations across the first 12 months.
How does it work?
Bite Back uses a combination of fun, interactive activities, quizzes, animations and information across nine positive psychology domains including gratitude, optimism, flow, meaning, hope, mindfulness, character strengths, healthy lifestyle, and positive relationships. Bite Back also provides information about the benefits of increasing wellbeing, strategies to develop skills in each of the positive psychology domains, and links to other relevant resources.
Mental Fitness Challenge
Bite Back's Mental Fitness Challenge guides users through five domains of positive psychology (gratitude, mindfulness, character strengths, social connections and meaning and purpose). Each week contains animations, quizzes and activities – plus at the end of the challenge users have the chance to go in the draw for gift vouchers for their favourite brands.
Who's it for?
Requiring minimal technical skills, Bite Back is appropriate for young people aged 12 – 18 years but with a particular focus on young people aged 13 – 16 years old.
What's the commitment?
Commitment is up to the user and can be as much or as little as they like. Our research suggests that the more often young people engage with Bite Back (i.e. for longer than 30 minutes per week), the greater the benefits to their mental health and wellbeing.
What's the evidence?
Bite Back has been evaluated via a randomised controlled trial that explored the feasibility of Bite Back and its ability to improve the wellbeing and mental health outcomes of Australian youth. Further aims were to examine rates of adherence and attrition, and to investigate the program's acceptability.
The results of this study suggested that using Bite Back could decrease symptoms of psychopathology and increase wellbeing in young people, especially for those that used the website more often and/or for longer than 30 minutes per week. Qualitative data indicated that acceptability of the Bite Back website was also high.
Find more information about the trial here.
Bite Back for Youth Educators
Bite Back is the perfect program for applying at the school level, aligning well with the Mental health and wellbeing focus area of the Health and Physical Education Australian Curriculum. The Bite Back six-week Mental Fitness Challenge is particularly well suited to the classroom and offers a fun, structured format in which young people and educators can get the most out of the program.
Visit the Bite Back Youth Educator page for a range of freely available resources designed to support Bite Back's application in the classroom. Materials include short instructional videos, the Bite Back Youth Educator Handbook, posters and student workbooks.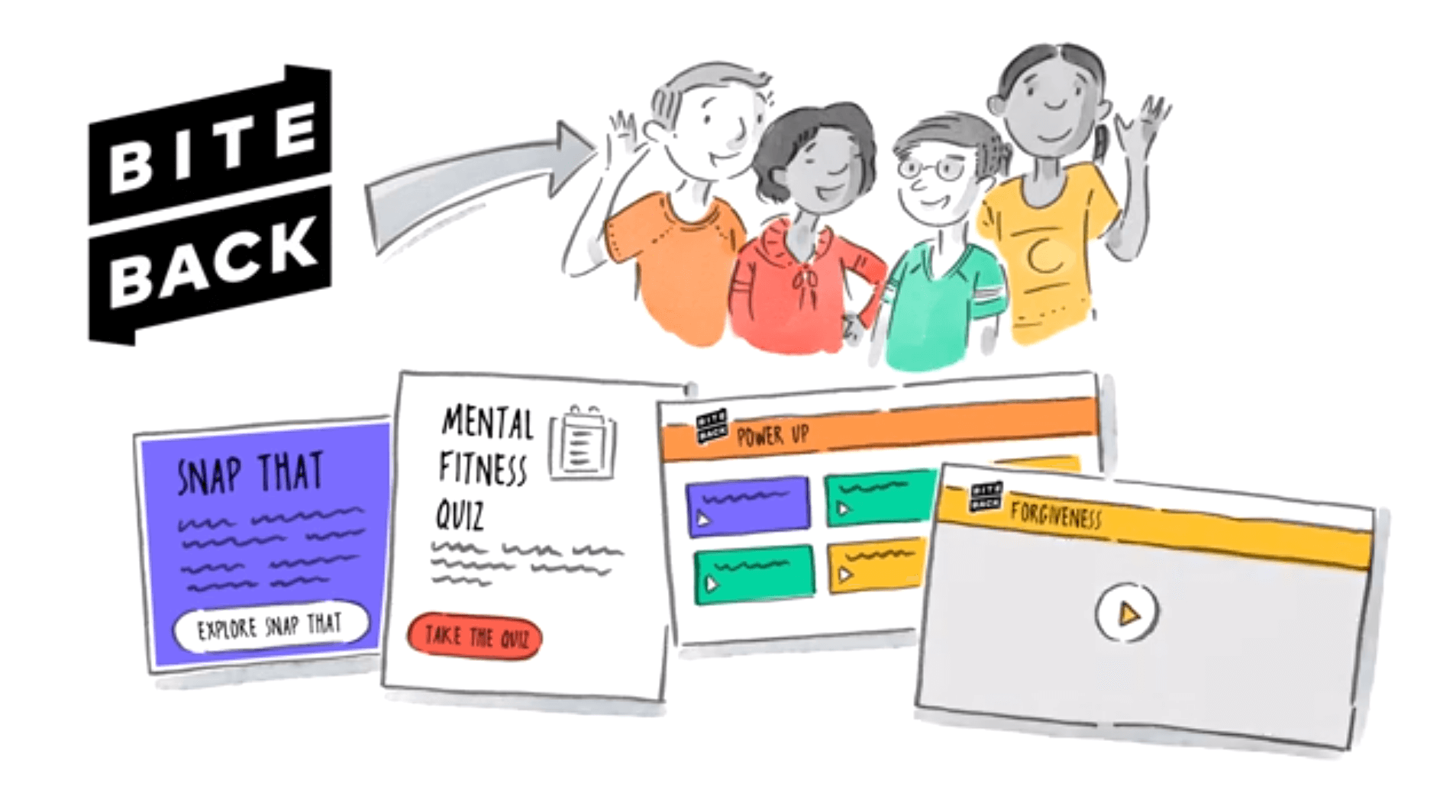 Funding of Bite Back
Development and delivery of Bite Back is generously supported by the Australian Government Department of Health.
Questions or comments?
Get in touch with the Bite Back team at emh@blackdog.org.au or (02) 9065 9089.